April 4th, 2007, 12:32 Posted By: chui

A new releases of NeoGeo emulator (CD and Cartridge) for Dreamcast console.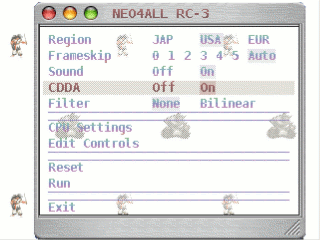 - New GUI and control-edit menu.
- Yamaha/Sound code changes.
- Memcard fixed.
- Safe Reset.
- Stand-alone versions.
- Lastest FAME Motorola 68000 core.
- Use new FAZE Zilog Z80 core.
- Second MMU cache level using SRAM (+2MB)
- Low level cdrom access for speed up swap.
- Short ROMS load time (its necessary rebuild .AES files).

DIGG THIS NEWS



Downloads and more info at: NEO4ALL home and AES4ALL home.

Give Feedback and Compatability Reports Via Comments



For more information and downloads, click here!


There are 30 comments - Join In and Discuss Here