DC News is a News and downloads site for the Sega Dreamcast, We have all the latest emulators, homebrew, commercial games for the Dreamcast and all the downloads on this site, we also cover commercial gaming and console news. Part of the DCEmu Homebrew & Gaming Network.
Interpreters for Dreamcast Section
Name FrotzDC
Author C99 Koder - http://www.c99.org/dc/frotzdc/index.php
Description
FrotzDC is an Interactive Fiction interpreter for the Sega Dreamcast which can play v1 through v5 Z-Machine games. Several popular Z-Machine games include the Zork trilogy, Adventure, and The Hitchhiker's Guide to the Galaxy.
People that are new to Interactive Fiction should check out the Beginner's Guide to Interactive Fiction by Joe W Aultman and may wish to play several games online in their browser at iFiction. Users interested in playing the iFiction games on a Dreamcast browser may be interested in this guide which will help you save your game using the Dreamcast browser. A great site to download freeware games for use with FrotzDC is The Interactive Fiction Archive.
FrotzDC is based on UNIX Frotz version 2.43, which is released under the GNU General Public License. You can find out more about UNIX frotz on the UNIX Frotz website.
Screenshots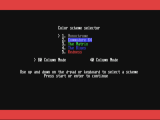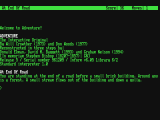 Download
Binary- Here v1.1
Source - Here
Information
The latest version of FrotzDC has limited support for sound effects. In order to use sound you will need to convert your audio files to wav format and put them in a folder with the same name as the game. For example, for sherlo.z5, you would have a folder named "sherlo" to contain the files. I am providing the converted audio files for Sherlock in the download section, but this does not include the z5 file, as Sherlock is a commercial Infocom game

The Hottest DCEmu Posters