DC News is a News and downloads site for the Sega Dreamcast, We have all the latest emulators, homebrew, commercial games for the Dreamcast and all the downloads on this site, we also cover commercial gaming and console news. Part of the DCEmu Homebrew & Gaming Network.
Games for Dreamcast Section
Name Digger
Author Eytan Kaziberdov
Description
A port of the Classic Digger to the Dreamcast.
Screenshots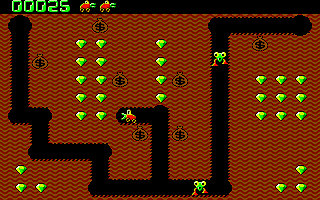 Download
Binary- Here Unscrambled
Discjuggler Self Boot - Here
Information
Digger, a game from 1983 check here for more details on the game and it's history etc.. Based on the source by Andrew Jenner from Digger Remastered
1-2 Players (Uses only 1 controller)
New Sounds
A little caution I've only tested up to Level3 so there might be bugs.

The Hottest DCEmu Posters